Decrease your spending and have more control over your irrigation.

Intelligent Irrigation Control System.
Looking at the world with curiosity, behind new challenges, Raks was born from the desire to transform. This wish came true through a project designed by people who believe that technology and knowledge must be applied to create solutions that have an impact on society, that facilitate and contribute positively to people's lives.
Anchored in the pillars of sustainability, innovation and efficiency, we seek to minimize the problems encountered by professionals in the field. We seek to improve productivity in the agricultural sector and reduce the waste of resources, working today to change tomorrow.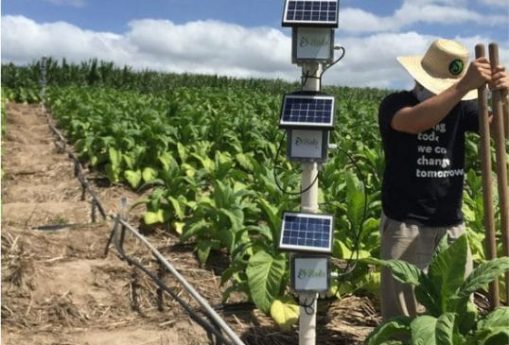 Produce More Food With Less Resources
Solar boards
The board captures solar energy and supplies the entire system, avoiding the need for cables in the field and expenses with electricity. This plate allows the system to be fixed and still have clean and renewable energy.
Meter
Electronic circuit developed internally to interpret soil moisture information and carry out data transmission via wireless connection, without internet and without cables in the middle of the field.
Platform
Platform for viewing collected information and assisting in decision making. The measures are presented in a simple way, through graphs and tables, generating detailed reports and analyzes.

Sensor
The measurement of soil moisture is carried out using fixed sensors with high precision. The sensors use TDR technology to verify changes in values ​​and were fully developed by Raks ®.
To get more information, make suggestions or ask questions, contact us, just fill out the form: